Koch Lab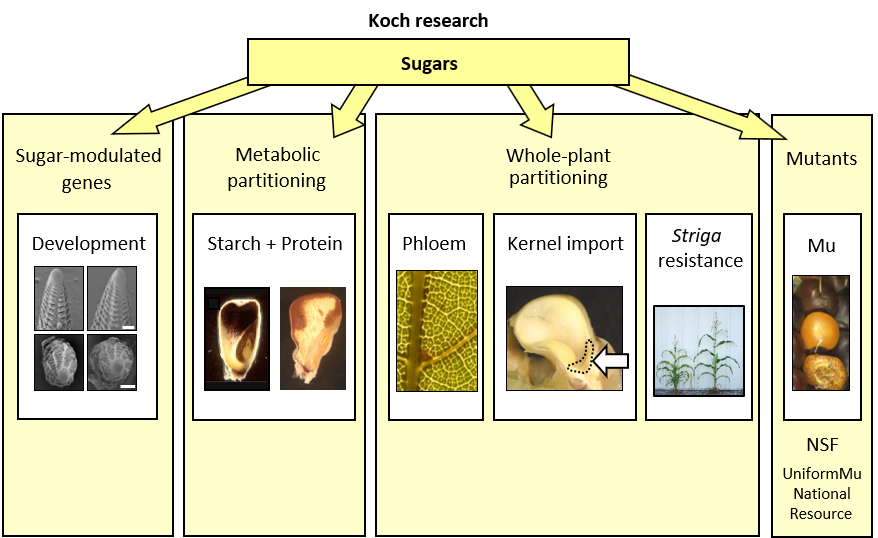 Research Summary
Our lab is probably best known for its research on sugar-responsive gene expression and the capacity for this process to alter the form and function of plants. Sugar availability provides pivotal cues for adjustment of genes affecting C and N allocation in plants. Of all the nutrients and hormones involved, sucrose remains the "lifeblood" of plants. This sugar occupies a truly central position in vascular transport, carbon partitioning within the plant, and as a source of sugar signals for responsive genes.
Our group thus focuses on genes that affect sucrose metabolism, its contribution to sugar signaling, and its partitioning to different end products. Particular attention is being directed toward maize kernel (fruit) development, cell-wall composition, and mechanisms of sugar transfer. Single-gene knockout mutants are being used to examine gene function.
Current projects are testing hypotheses for carbon-partitioning and gene expression in developing maize ovaries from floral differentiation to kernel harvest, and for the involvement of key genes in cell wall biosynthesis at strategic stages of development (e.g. root-hair and pollen-tube elongation, early phases of kernel differentiation, and growth of seedlings).
Research Publications
Lab Members
Current Lab Members

Karen E. Koch, Professor
Jonathan "Jono" Saunders, Biological Scientist
Jiahn-Chou Guan, Associate Research Professor
Maria Angélica Sanclemente, Ph.D. Student
Peng Liu, Ph.D. Student
Scott Fleishman, Undergraduate Intern
Sarah E. Joe, Undergraduate Intern
Lauren D. Bradley, Undergraduate Intern

Former Lab Members (Since 2000)

Postdoctoral Associates

Fangfang Ma
Jiahn-Chou Guan
Charles "Chip" Hunter
Sylvia de Sousa
Chung-An Lu

Ph.D. Students

Brent O'Brien
Charles "Chip" Hunter
Andrea Eveland
Li-Fen Huang
Song Xue
Yong Wu

Undergraduate Interns

Mark Wissel
Catherine Cropsey
Stefanie Proulx
Jennifer Flick
Heather Miller
Jenny Ring
Charles "Chip" Hunter
Margaret Kellogg
Brent O'Brien
Stephanie O. Peacock
Nancy Miller
Mayrim Perez
Sarah Luciano
Nana Ama Ankumah
Tu-Van Le
Chris Mackey
Steven Samuels
Autumn Miller
Kearston Barnes
Jeremy Zinkowski
Christian Restrepo
Katrina de la Vega
Joseph Collins
Emeka Ibekwe
Pooja Reddy
Gabriella, Fernandez
Margaret Paxson
Henry Campos
Laura Morales
Lucas Paranhas
Amanda Costa
Stephanie Locke
Christy Johns
Ryan Cannon
Alec Tasi
Taylor Ruth
Brianne Conlon
Chloe Boutelle
Melissa Jaskiewicz
Isabel Branstrom
Harry Klein
Alex Boucher
Nicole Traugh
Kelsey Wyman
Jennifer Lundgren
Adriana DiMare