Stone Fruit Varieties and Availability
Although peach production in the State of Florida has been traditionally located in North and Central Florida, late spring freezes in the 1980s caused severe declines in acreage. However, the University of Florida has had a breeding program since the early 1950s, and in cooperation with the University of Georgia and USDA has released over 30 peach, nectarine, and plum varieties.
Site selection is extremely important for peach, nectarine, and plum production. Potential orchard sites should have soil that is well-drained and slightly sloped for cold air drainage. A number of varieties have been developed for North, Central and Southern Florida, and a continued emphasis for the breeding program is to increase the diversity of germplasm for the entire state of Florida. Varieties are patented through the Florida Foundation Seed Producers (FFSP) and bud wood is made available to those nurseries that purchase licenses. It is important to buy patented varieties from those nurseries that are licensed.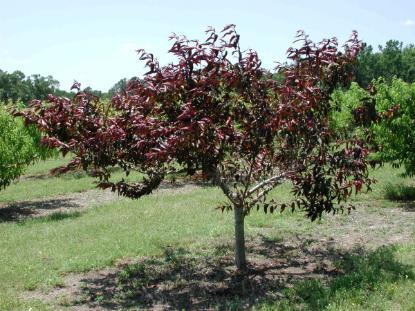 Peaches and nectarines in Florida must be planted on a rootstock that is resistant to a specific root-knot nematode found only in Florida (Meloidogyne floridensis). Currently, there are three commercially available rootstocks, 'Flordaguard' (a peach rootstock) and 'Sharpe' (a clonal plum rootstock) that are resistant to M. floridensis. 'MP-29' is a third rootstock that is being tested in two locations in Florida and is available for commercial propagation. 'Sharpe' rootstock is recommended for dooryard or backyard orchards, as there has been a slight decrease in fruit size associated with this rootstock. 'Flordaguard' trees are visually distinctive with young leaves exhibiting a deep red color.
'Flordaguard' trees are often propagated by seed; however, approximately 15-20% of the trees must be culled because of "outcrossing" of the fruit. That is, they will not be genetically true to type and will not contain full resistance to M. floridensis. Clonal propagation (e.g., cuttings) from a true to type 'Flordaguard' tree will result in 100% of the trees that will be resistant to M. floridensis.