History of Stone Fruit Breeding at the University of Florida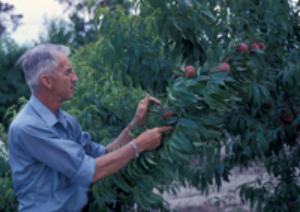 Ralph Sharpe started the University of Florida's stone fruit breeding program in 1952 with the goal of taking advantage of Florida's "climate, land, and market window to produce some of the earliest fruit in the U. S." (Sherman et al., 1996). Florida's subtropical environment is unique, in that fruit can be harvested shortly after bloom (in some cases as short as 60 days), and there is a long post-harvest period of tree growth.
Since many deciduous fruit trees require a certain number of chilling units to properly develop leaf and flower buds, temperate varieties cannot be successfully grown in many locations within the State of Florida. Thus, the UF Stone Fruit Breeding Program has striven to develop varieties for this sub-tropical climate using temperate genotypes.
Peaches and nectarines are related to a native species of Prunus in China (Bassi and Monet, 2008), and the germplasm used in the breeding program had their low-chill origins from South China. Of these importations of germplasm, the most important became a seed importation from Okinawa. Breeding crosses were made, from which selections were chosen or again crossed to get desirable traits, and this continues to current times.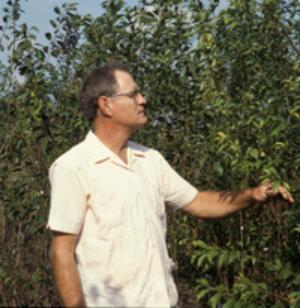 Dr. Wayne Sherman, professor emeritus, was hired as a fruit breeder in January of 1966. Dr. Sherman was responsible for several improvements to increase the efficiency of the breeding program and reduce the time from making a cross to release of a new cultivar. These include development of a fruiting nursery, identifying early ripening by appearance of red leaves, introducing the non-melting flesh gene into the breeding population, and making selections for fewer blind nodes, bud drop, and higher percentage of fruit set under higher night temperatures (as is often seen in Florida during the bloom period).
As with many research programs, challenges create opportunities. In 1966, Ralph Sharpe reported that a type of root-knot nematode (Meloidogyne incognita) colonized the known nematode-resistant peach rootstocks, Nemaguard, Nemared, and Okinawa. With no other source of known resistance, rootstock breeding efforts led to the development of Flordaguard rootstock (Sherman et al., 1991). This new root-knot nematode has been identified as a new species, Meloidogyne floridensis (Handoo et al., 2004). It is not been found outside of the State of Florida, but growers are vigilant in the southeastern U. S. and Caribbean Basin.
Peaches are typically available in two different flesh types, melting and non-melting. Melting flesh varieties often do not ship as well because of its tendency to bruise easily, and thus are harvested much earlier than they are physiologically ripe. In these cases, flavor and color may not be as well developed. In order to ship "physiologically mature" peaches, the non-melting gene from Mexico, North Carolina, and Brazil germplasm was brought into the program, which allowed peaches to be harvested at a firmer stage with higher flavor, color development, and sugar content.
Non-melting flesh peach varieties that have been released from the program include 'UFGold', 'UF2000', 'UFO', 'UFBlaze', 'UFBeauty', and 'UFOne'. Two nectarine varieties have been released, 'UFQueen' and 'UFRoyal'. A cooperative effort between UF, the USDA-ARS unit in Attapulgus, GA, and the University of Georgia has released 'Gulfprince', 'Gulfking', 'Gulfcrest', and 'Gulfcrimson' peaches, which require a higher chilling unit accumulation and are best suited for Northern Florida and Southern Georgia. Today, these and other varieties released by the UF Stone Fruit Breeding Program are grown in Australia, Spain, Morocco, South Africa, and around the world.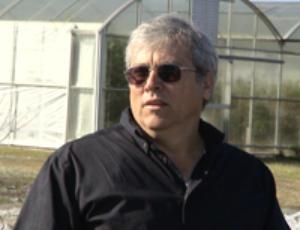 In 2004, Dr. Jose X. Chaparro was hired after Dr. Wayne Sherman retired and is the current stone fruit breeder and assistant professor. Originally a master's student under Dr. Sherman, he went on to get his Ph.D. from North Carolina State University and was a citrus scion breeder with the USDA-ARS in Ft. Pierce, Florida before accepting the position as stone fruit breeder at the University of Florida.