Citizen Science Initiative 2021 Data
Table. Performance of Klee lab tomatoes in home gardens across the U.S., Canada and Europe.
Data are averages of 73 citizen scientists' observations in the 2021 growing season.
Varieties were scored from 1-10, with 10 being the highest score.
Letters indicate significant differences in performance attributes.
| Variety | Flavor | Overall performance | Yield | Appearance |
| --- | --- | --- | --- | --- |
| RC hybrid | 7.75 a | 7.97 a | 8.21 a | 8.37 a |
| Garden Gem Improved | 7.90 a | 7.79 a | 7.77 b | 8.46 a |
| BW hybrid | 7.66 a | 6.91 b | 6.44 c | 7.77 b |
| Better Boy | 7.15 b | 6.47 c | 5.84 d | 7.24 c |
Locations of Citizen Scientists' Home Garden Trials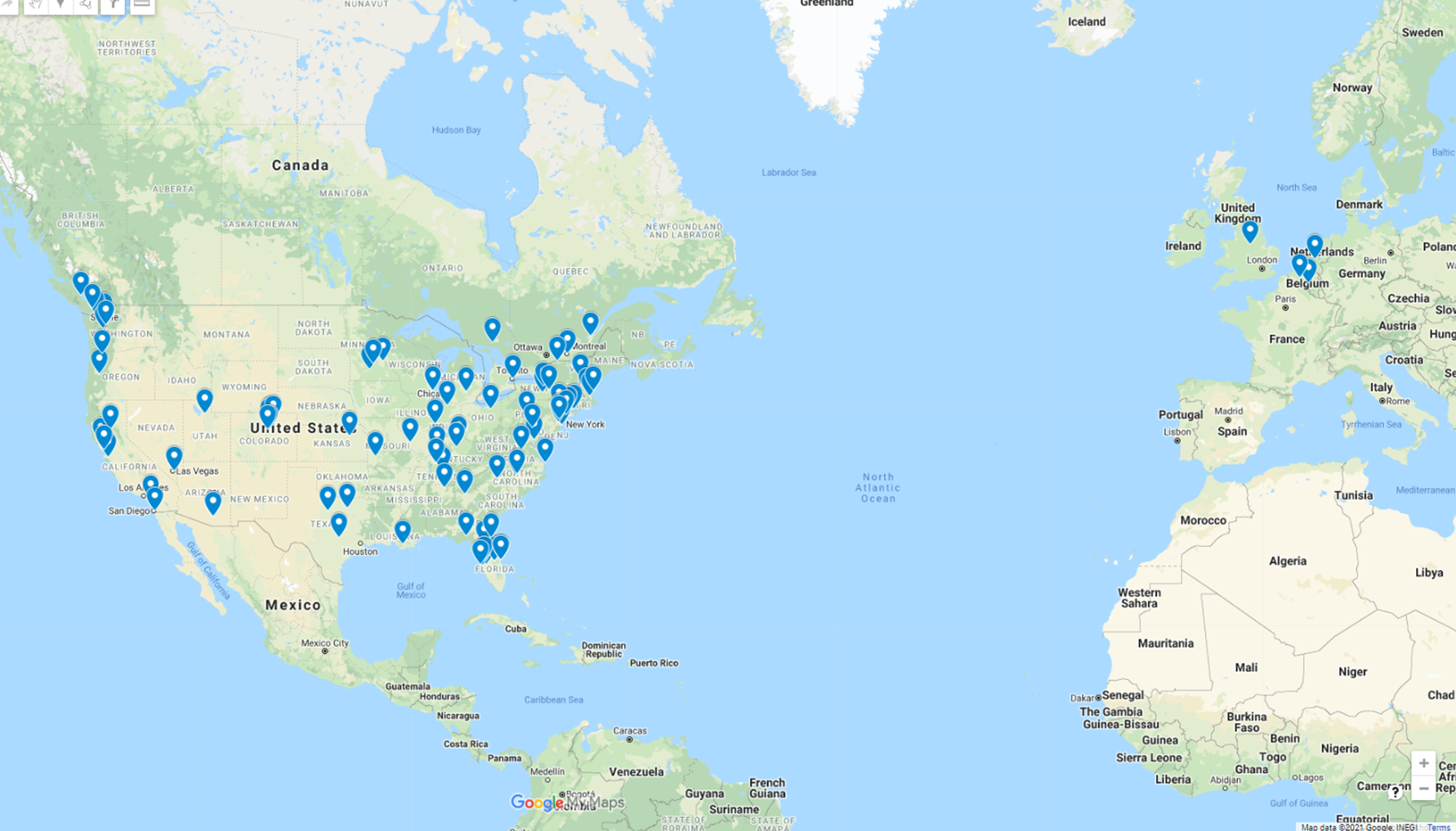 Comments
Tucson, AZ, USA
We would NOT grow the Better Boy again. It just doesn't do well in this climate. Splits, drips, and several had blossom end rot....
We have grown GG for several years and LOVE LOVE LOVE it! The GGph is noticeably larger than the orig. GG but not much tastier. It is the reason our marinara is so popular.
The BW days to harvest is too long for the early May/June triple digit temps. The taste is nice, but we have better harvests with 55-75 days harvest tomatoes.
Cherry tomatoes do best in this dry desert climate. It's hard to find a really tasty cherry tomato. The RC is a very tasty fruit and is a prolific indeterminate. No splitting, not too acidic, and has a great flavor! We have LOTS of pictures but this form only let's us to upload one. We have posted on Garden Gem FB page.
Carrollton, Texas, USA
I like to keep the plants going as long as I can after the spring harvest, so that I can get some fall crop, or even overwinter some of the plants inside under grow-lamps. While I unfortunately was not able to do a perfect side-by-side comparison of the original "Garden Gem" vs the new "Garden Gem Ph" this year, it appears to me that the new Ph variety is markedly inferior to the original variety in this regard. For example, the 3 new-variety plants I'm growing appear to be a death's door after the spring harvest (though they *may* yet survive), while I had 2 original-variety plants that made it all the way through last summer, fall, and winter, and gave a similar harvest this spring (before eventually dying) to what the new-variety plants gave.
Greenwich, Connecticut, USA
The RC Hybrids yielded tons of fruit and ripened just about 65 days after transplanting out in mid-May. I've left many on the vine (and pick them just before I use them). But many have developed splits while sitting orange/red on the vine. I've discarded these, because I worry about disease and/or bugs inside. Still, these were a very pleasant surprise and I've eaten so many since mid-July, and given many away.
Gainesville, FL, USA
I would grow RC every year if it were available!
Racine, WI, USA
The Better Boy germination was not great (50%), resulting plants were a little weak. This was the only variety that had blossom end rot (in pots only). Sorry the control did not do so well! The B Hybrid did better in the pots, than ground. The plants in the ground were small and I only harvested a few fruits per plant. I harvested buckets of R Hybrid. They had a some bronzing on the young leaves and and either Septoria or bacterial spot on leaves at the end of the season (see top tomato in attached picture. None of the other tomato varieties had issues with disease. If the R Hybrid was not harvested right away there was some cracking of the fruits ( also shown in picture). Garden Gem had a good yield and tasted very good also (bottom tomato in picture). They all tasted very good. By luck, the R Hybrid tasted the best to me and produced the highest yields of all the varieties. Racine had a very dry, hot summer. I think more rain would have helped the B Hybrid and the Better Boy. It was great fun growing and observing these tomato plants, thank you for sharing the seed!
New Haven, Connecticut, USA
I wouldn't grow the RC Hybrid again. There are so many other cherry tomatoes that outperform RC Hybrid in terms of yield and taste. What I liked the most about RC Hybrid is that it has a good open plant structure. One of my RC Hybrid plants developed early blight well before any other tomato (~45 plants, ~15 varieties) in my tomato trials this year. We had an odd summer season in terms of weather. Near the end of the season, the RC Hybrid had cracking on almost all fruit.I love the Golden Gem for it's size, flavour complexity, meatiness, and crack resistance. It does succumb to diseases pretty easily in my garden, especially this year. I would love to have this variety as an indeterminate as I don't believe there is a plum/paste tomato like this variety out there.
BW Hybrid yielded the best out of all the medium/large tomatoes in my trials, including the Garden Treasure and Better Boy. It's a nice solid tomato in terms of consistency and good balance of acidity and sweetness.
The weather in the Northeast was so unique this year, allowing for many foliar diseases to proliferate. This year is the first year I've ever considered not growing organic to fend off the diseases. In general, the BW hybrid, Improved Garden Treasure and Improved Golden Gem were able to trudge through the diseases to yield fruit, but plants stopped producing about 1 month earlier than previous years.
Nashville, TN, USA
No problems with disease. Interestingly, squirrels never bothered my plants on the deck, but this year I had to trap and exile four of them, all apparently attracted to the BW hybrid. Good taste! Roasted hundreds of tomatoes this year. By far the best yield ever.
Alexandria, VA, USA
The taste was so good we avoided putting them in salads where dressing would mask the taste and just ate them plain with salt.
Wilton, CT, USA
BW #3 gave 14 tomatoes, 92 oz, BW#9 gave 20 tomatoes, 102 oz. Better boy #2 gave 10 tomatoes, 57 oz, BB #12 yielded 22 tomatoes/42 oz, BB#17 gave 32 tomatoes/ 63 oz. BWs were the big winners on yield and flavor. RC #6 gave 91/60.7 oz, RC#23 gave 70/29 oz, but with the best flavor of any of these varieties. GG#4 gave 29/40.2 oz and GG#19 gave 59/56.3 oz. Too much rain this year led to a lot of septoria leaf spot which certainly could have reduced yield.
Huntsville, AL, USA
The garden gem was an incredible producer; it was strong and healthy all season long and is in the end stages of its crop: 10/1/2021. I would only grow the garden gem and rc again; the other 2 only produced one or two tomatoes all season.
State College, PA, USA
All of the plants grew so incredibly well! I'm still harvesting tomatoes from all of the plants that were in the raised beds; the plants in the pots got dried out at one point over the summer while we were on vacation so they didn't last quite as long. But the yields have been so huge that I've frozen gallons of tomatoes & sauce and had to start giving them away.
Cortland, NY, USA
The Better Boy and Garden I will try again, this is my fourth season with Garden Gems. The R hybrid is too big and outer wall is too tough to enjoy as an eating tomato.
Virginia Beach, VA, USA
I lost most of my seedlings to an unexpected frost; the identifiers on the ones that survived were very mangled and I could not see which ones where which. However, they were very prolific producers. The fruits were about a third the size of a dollar bill and, according to my dog, quite delicious because she kept eating them off the vine (large dog, vet said it was fine)! Did not have any disease issues or insect pest issues.
All in all, while my dog is grateful for the abundance in snacks, this project was an abysmal failure on my part. 10/10 would try again—with raised gardens to keep them away from my dog.
Glen Saint Mary, FL, USA
Recived my seeds late and started directly in the ground. Had a heavy rain (flood) that washed some of the seeds away. Then work took me out of state and the tomatoes had to grow on there own with little help from me. The Garden Gem and the R Hybrid tomatoes did the best and the taste was great.
Camano Island, WA, USA
Better Boy produced monster sized tomatoes. Texture mealy at first, but both flavor and texture improved through the growing season. Also made excellent green tomato relish. Happy with result during a short season.
Garden gems very small compared to traditional GG. Good yield but not worth the time or space. Would not grow again.
RC grown in a container. Excellent flavor but very thick skinned. The deer loved it too impacting overall yield.
All tomatoes subject to cracking and splitting late in the season.
North Royalton, Ohio, USA
All but RC Hybrid had some early blight
Better Boy showed most severe early blight and most fruit exhibited cracking
I will grow all but Better Boy again
RC Hybrid is still yielding as of 10/15/2021
Williamston, MI, USA
Garden Gem and R Hybrid were both phenomenal producers, would absolutely grow again.
We found the flavor of the Garden Gems was more to our liking if we picked the ripe fruits, then let them sit a day before eating, They developed a brightness/ acidic note we loved.
Gig Harbor, WA, USA
Low yield on all my tomatoes this year. Weather?
I found the R hybrid to be tough skinned and bland. The Garden Gem is really fun-last year had a very high yield. No pests, long season.
B hybrid and Better Boy were similar, very tasty, juicy and resistant to cracking (a problem here in the Pacific Northwest.
Denver, NC, USA
RC Hybrid - Was the first plant in the garden to have leaf spot, but then held up all season, with one plant still producing as of Oct 17. I harvested 714 fruits on two vines so far. But, then skins split all season with a lower rain that usual. Skins were also inedible like cellophane. Good taste to the fruit but almost 1/3rd of each fruit is skin and seeds which average about 90 per tiny fruit. Not a good choice for my small garden at all.
BW Hybrid - grew very well throughout the season, very few disease or leaf spots until late Sept. Excellent taste and size. Stopped production in the summer heat, then really put out fruit late summer into mid October when temps cooled, and two vines are still producing. As of this writing on Oct 17, two plants still have at least 4 dozen more fruits still growing on them. I've harvested 108 blemish-free fruits so far on three vines. Loved this hybrid.
Syracuse, NY, USA
The weather and conditions in Syracuse NY (and our garden plot specifically) were terrible for tomatoes; rainy and overcast days early in the season jump-started the diseases. This was my worst year ever. Essentially every plant was completely dead by the end of August, except these three hybrids. They continued to grow and Better Boy is still producing a few fruit as of this week (mid-October).
Starting from the time of transplant, I removed lower leaves and continued removing diseased leaves weekly through August. Plants were grown a foot apart and trellised by wrapping the stems around vertical wire as they grew taller.
Worthington, Ontario, Canada
Better Boy fruited very late to the point where I only had a couple ripe tomato (we are located in Northern Ontario and only have a 3 month frost free year). Gem tomatoes seemed to hold up better against the frost and they stored longer than the other types. BW and RC Hybrid were the most appealing visually and taste I think, I also liked that they were a bit of a smaller tomato, but they did not yield as highly as the Gems. No disease affected any of them until the end of the growing season when all of the tomatoes (including those outside of the study) begin to get brown spots.
Greenfield, MO, USA
Would you grow it again...there were two new varieties. The RC Hybrid for sure, the Garden Gem probably. The Boy and BW-late probably not.
Denver, CO, USA
I will not grow Better Boy again. I would grow B-Hybrid, Garden Treasure, and Garden Gem PH again. Probably will not grow RC Hybrid again as I am not a fan of such small tomatoes. My 2021 tomato crop was a complete bust. They had consistent water and fertilizer and their performance was dismal. Battled bottom end rot with Better Boy, and B-Hybrid. The yield of sprouted plants compared to seeds planted was very poor. I planted 9 Better Boy seeds and only 1 plant germinated!! With B Hybrid only 3 plants of 9 seeds planted. Garden Gem PH 3 plants from 9 seeds. RC Hybrid only 4 plants of 9 seeds planted. The yield from all plants except RC Hybrid was very late and very sparse.
Durham, NC, USA
A lot of cracking in RC, also structure made them hard to harvest. Once ripe, the garden gem was a delicious tomato, highly rated in taste tests. In taste test BB and BW went head to head with BB having a slighter edge for flavor. Both regarded as juicy. In a garden with many other heirlooms, BB & BW were the second-last standing, with the last picked in September. The last tomato picked in early October was Garden Gem. During a collection period production of BB and B Hybrid varieties were nearly identical in terms of number of fruits and poundage. All the Miami tomatoes outlasted the heirlooms in the garden. While every tomato got some soil-borne disease, the Miami tomatoes had less. Last year when we tested a variety of heirlooms, the last tomato was pulled in mid-August. The Miami tomatoes and the BB lasted substantially longer this year (in the same beds).
Hamilton, NY, USA
BW-beautifully colored and shaped; juicy; good tomato flavor. As good if not better than Better Boy, which it most closely resembles. Garden Gem-first rate; very uniform; flawless exterior; few seeds; fine tasting; decent yield. ( I liken it in different ways to two tomato varieties I grow-Jolly and a special favorite, juliet). RC-have issues with this one; certainly productive, early, ripe fruits had a distinctly greenish, gelatinous seed sac interio that was off-putting; many had a bitter/tart/acidic note to not great flavor. Guess I expected a sweeter, cherry-type tomato